When I think of deer I am reminded of a very huge deer
head that resided above my family's fire place when I was little.
We would put a santa hat on him at Christmas with a rudolf nose. Ahhh, the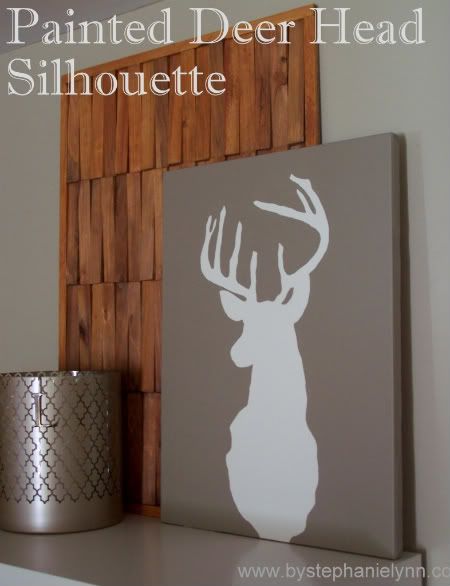 Something about it caught my eye. I knew right away
who this would be perfect for! My little sis married an avid
hunter and this was the perfect mix of hunter/classy. Yes,
that is possible.
Silhouette of a deer
white paint
background color of your choice
Assemble your pine and quarter inch maple. It can be
as small or big as you want it.
Now, give your board a few coats of white paint.
I had to do two coats just to get a nice good coverage.
Now, trace your deer template ( I googled deer silhuette until
I found one I liked).
KK just had to give him some eyes, oh and
pretend you have already painted your board white.
Do a few coats on the outer part of the deer. Leaving
the inside of your deer white.

.
Can't you just see this on your mantle in the winter with
a fire and a cup of coffee?
Hope this is the perfect match of classy/outdoors for
the newlyweds. Congrats!!